Step 1 UX research & analysis
If your not up to speed read this how the journey started first. This is step 1 in my process of creating a MVP with the only objective to test the market, get some genuine user data. To allow the idea to go full steam ahead, pivot or ditch.
This step is about basing most of my decisions on assumptions. I can then get a MVP out there ASAP to test. Ideally I would carry out usability testing on a story board or click through prototype at the end of this research phase.
---
The research
At this stage I can't do any usability testing, or any testing on users. I will revisit this research phase once I have a MVP.
Research I am leaving till I have a MVP

Contextual Enquiry
Surveys
User Interviews
Usability test
Customer feedback
Stake holder interviews
This would be the time to hold workshops and create a engagement with the product owners and people working on the product once live. I have held several of these at early stages of projects and they are always highly beneficial. For this one I guess I am the only stakeholder on this project.
Project vision
Q: What is your vision for this offering?
A: To create a safe secure place for people to sell products, with little or no fees. Create a safe community of sellers and buyers. Sell a small amount of high end items. The large sites often sell fakes and people don't have faith in them. I am going to start out selling limited edition sneakers.
Q: What defines success for this project?
A: Getting users and creating a trusted community.
Q: What are the potential pitfalls (i.e. what keeps you up at night about this project)?
A: No uses it and payment security.
Finding so far from interviews: USP

Only sells genuine products.
No or very little fees to buy and sell.
Rare and limited edition products only. ( Starting with sneakers )
Competitive Analysis
I picked some direct and indirect competitors to document and study. View the document

User stories
I have two user types at the moment, the buyer and the seller. I will cut down the stories to the reworked MVP model. So no categories and search, however there will be additional stories specifically for this version. Full list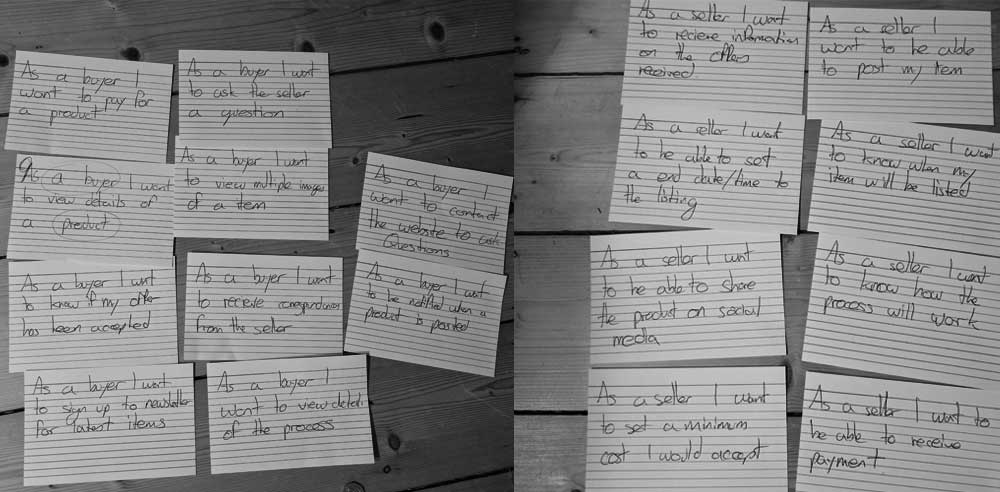 Personas
I selected a few key users and completed several personas. T to try and put myself into their shoes to find out some key traits.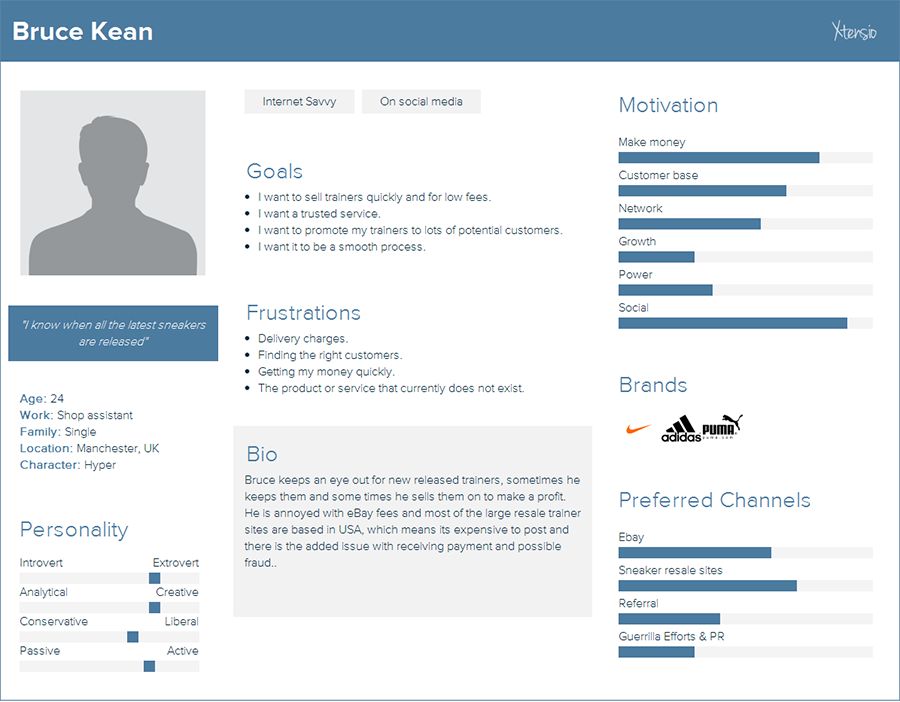 Analysis
Affinity Diagramming & Card Sorting
Coming soon
Themes
Coming soon
Define resources
Coming soon
---
Follow the journey
How not to launch a product
Step 1: UX research and analysis
Step one will be refining the MVP down, creating some user flows and making everything based on assumptions. Do as much research as I can to get a MVP into peoples hands. Step 1
Step 2: UX design
UX design user flows and wireframes. link coming soon
Step 3: UI design
Build out the MVP statically and manage it myself. link coming soon
Step 4: Build an MVP
Build out the MVP statically and manage it myself. link coming soon
Step 5: User research on the MVP
Gather sheds loads of user data. Google analytics, surveys, hotjar, usability testing etc. link coming soon
Step 6: Analysis the data
Analysis data and create usability maps of real data. link coming soon
Step 7: Revisit the UX and business goals
Revisit UX design and adjust. link coming soon